Look out for Ventnor Brewery in conjunction with Rob da Banks production of a very special beer
Bestivale
in your local Wetherspoons Very Soon
See the pictures below of last years Bestival on the Isle of Wight
A sneak preview of our new Special Monthly Ales.
March: Molly Downer
April: Jazz Diva, St Georges Ale
May: May
June: FestivAle
July: Samphire
August: Hooray Henry
September: BestivAle
October: Druid Fluid
November: Sandrock
December: Anti Freeze/ De – Icer
Who knows, if England is doing well, the baker boys might even do a world cup beer! Come on England!!
Molly Downer 4.2% Abv ( Read the poem, find out who she was.)
Look at http://www.39springhill.freeserve.co.uk/molly.htm for more info
Amber brown in colour, not as heavy as expected, in depth hoppy bitterness, followed by an overwhelming aroma to compliment the bitterness. Brewed using Maris Otter malted barley, malted wheat, rye crystal and crystal malt. Thoroughly hopped with Styrian Goldings hops. Made with natural spring water and our own Ventnor Brewery Yeast.
What's your Perception – old or young?
Our new beer for March is called Molly Downer, a 4.2%. She's very Moorish,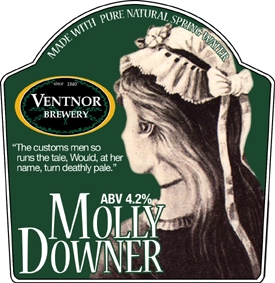 Euro Beers!
Ventnor brewery is backing up its reputation for having the highest quality beers on the island, and is now branching out with a selection of the best beers from across Europe. They will be stocking the Schneider Weisse, which has just won 'Beer of the world' and Deus, the most exclusive beer in Europe, (maybe the world!) made from Dom Perignon yeast! Deus is truly the crème de la crème of beers, a real celebration beer or just for a special treat.
Deus 11.5% ABV probably the most expensive beer on the market today, and definitely the most exclusive. Brewed with barley in Belgium and then re- fermented in the bottle following the traditional "Remuage and Degorgement" (also known as 'the champagne method') in the champagne region of France, "brut des flandres"! Can you guess which top champagne yeast they use? The clue is in the bottle…
Duvel 8.5% ABV the classic strong golden ale with a large creamy head, a subtle fruitiness and distinctive delicate taste will certainly lead you in to temptation. One of the world's great beers, Duvel means devil in Flemish and its certainly sinfully deceptive – light in body, pale in colour. Duvel may look like a lager but it is in fact a top fermented beer. Best served chilled in its own distinctive glass.
Schneider Weisse 5.2% ABV (Beer of the world) A brewery of great history and tradition. Schnider has built up the reputation of being the most distinguished and exclusive purveyor of wheat beers in Germany. A rich full-bodied wheat beer, tan in colour with a clove-like fruity bouquet. A uniquely satisfying experience. Schneider Weisse is an unfiltered wheat beer from Bavaria. Compared with Many German Weisse Beers, it is very full flavoured and Spicy – a must try.
Kwak 8.0% ABV Monks in a Belgian Abbey made a three-grain beer in the 1600's and inspired Bosteels Brewery to create Karmeliet Triple in 1997 from barley, rye and wheat. Heavily spiced, the result is a beer of some finesse. Kwak is a dark warming drink with Liquorice-like flavours, this time inspired by a coachman! Hence Kwak is served in what has to be the most unusual glass in the world, a sort of stirrup cup! If you don't know this beer, you really should!
Maredsous 6% Blonde In 1963 the Benedictine abbot of Maredsous entrusted the production of the famed Maredsous beers to Duvel Moortgat. The monks continue to exercise strict control over its recipes and quality standards right up to the present day. This beer is aromatic, fruity and velvety. It is ripened for two full months before it departs to its final destination.
Lindenboom 5.0% ABV a small family brewer from Limburg in the Netherlands. On a hot summers day there will be no more call for other beers once you have tried this one! Made to taste so good it's unreal. A high quality, very drinkable pilsner with a dry finish. The name means 'lime tree', and is named after the one in the brewery yard. This beer is now available on draught as well as bottled. If you don't try it, you'll never know what you've missed!!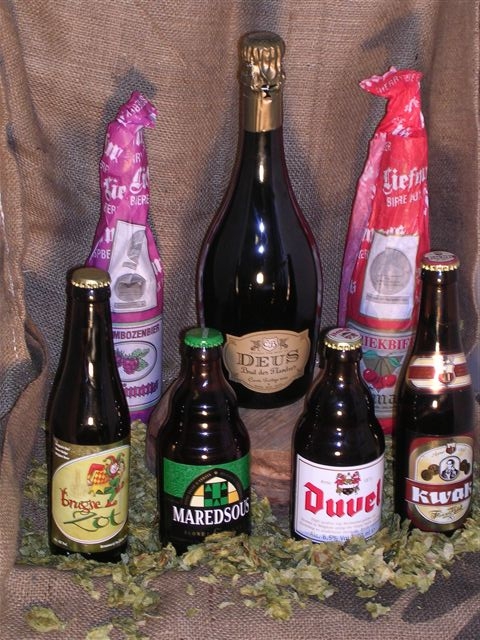 Other Beers in our range
Palm
Hertog Jan
Chimmay
Liefmans Fruit beers
Hoegarden
Many more Coming V. soon!
We have many new (and old!) beers and ciders from around the country, our shop is also selling all sorts of local produce too - come and see for yourself!
Burts Chips
The UK's official number one tasting crisp. On the Island, Burts Chips are exclusive to Ventnor Brewery and we are delighted to be working with a fellow family business from Devon. Like us, they believe in quality, customer care, top product and those little extra touches which make all the difference! All flavours are natural - no artificial colours, flavours etc. that many other crisp producers often add. The flavours are fantastic and there will be additional one-off seasonal flavours too. Check out their website for a taste of things to come.
www.burtschips.com
Ventnor Brewery at The BBC Good Food Show
Oz Clarke spent over an hour on the Ventnor Brewery Stand
At the BBC Good Food Show at the NEC
in December. They discussed on line Beer sales and the ingredients of good Beer. Such as Water Hops Malt and Yeast.
Oz really like Ventnor Beers especially the Oyster Stout and
The Sandrock Ale which he likes with a good Chedder Cheese.
So Go the Web page and buy some Beer on line.
Try the Oyster Stout and Sandrock Ale especially
Xav with OZ Clarke Food and Drink Connoisseur
At the BBC Good Food Show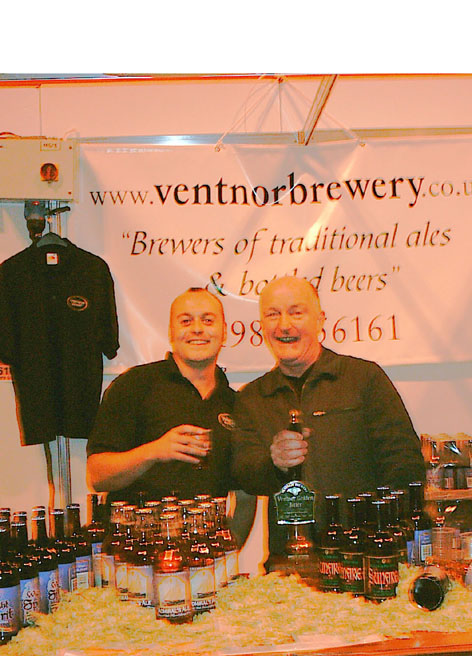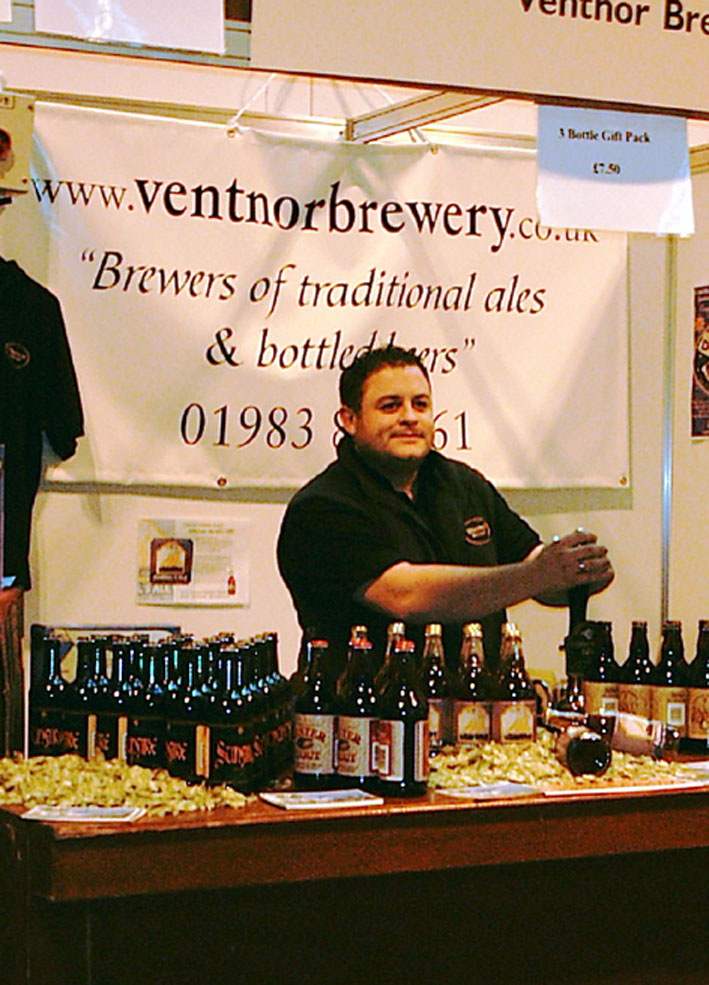 What is going to be the Winter Ale this year??
Look out for the regular Anti-Freeze ( 5.2% abv) to warm you up.
But also look out for
De-Icer (4.5%abv)
(a not too strong beer, so I can drink more of it, but still with that winter warmer taste to it)
Ask your local if they are going to get any in.
If not order on line or come down to ........
THE VENTNOR BREWERY BEER SHACK NOW OPEN
COME ON IN ..THE BEER'S FINE!
What next at the Brewery........A BEER SHOP do call in and browse or better still buy some beer.

Order beer for parties and gatherings or just to drink at home.

We have our range of bottled beers and draught ones available. Draught comes in 4,8,18,36 and 72 pint sizes.

WHAT A BARGAIN!

Like Arkrights we are "open all hours"
Look out for the Autum Beer ......Druid Fluid get that Pagan Feel with a pint of it.
Is that a druid in the font clip or the outline of the famous Isle of Wight Longstone? I will let you guess. But there are always a load of Morris Dancers around the Longstone on Mayday Sunrise. No Virgins though!! They have to make do with second hand ones. Do come up next year.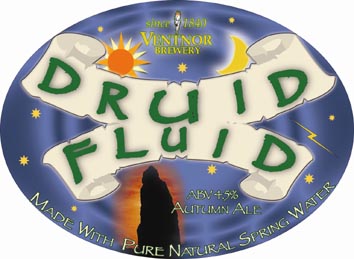 Here are the World Famous

Men of Wight Morris Dancers singing the sun up at the Longstone on May the 1st 2005.

There were an audience of at least 60 people at the top of Brighstone Forest to see them dance and sing the sun up with Ventnor Golden.

Notice the Long Stone in the background

Definitly Druid Fluid eh !!
Summer at the Brewery
If you are missing summer, here are some pictures of Ventnor Carnival and The Ventnor Jazz Band having their halfway stop for refreshments at the Brewery on their way past.
Ventnor Carnival is even better than Notting Hill, do not miss it next year!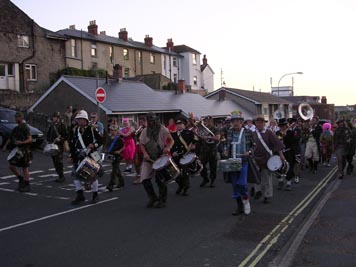 The Band in Full Swing as they leave the Brewery to A Yard of Ventnor Golden ..10 seconds !!
rejoin the Carnival a few floats back down the procession.
"Oh When the Saints .....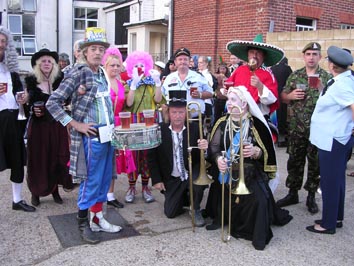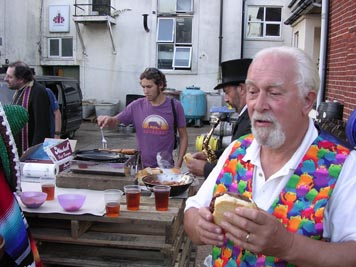 A Pint on the Band, Drumming up Business!! Brian having a well earned burger!!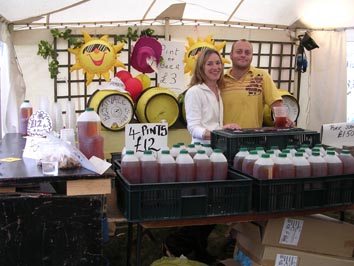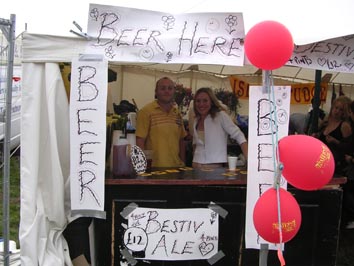 Here is Xavier and Lesley at the Bestival.
Bestivale was a great hit at the Bestival!! The Bestival has just been voted the Best Medium Sized and most Innovative Festival of 2005.
Were you there?? Did you see us at the Farmers Market? Did you have any Bestivale there?
Well we all had a great time and enjoyed everything there, the atmosphere, the blow up church, the Morris Dancers and of course the great line up of Bands. Here is Xavier and Lesley at the Farmers Market in the Bestival. Where was Airon ? Helping to organise the event, backstage, here, there and everywhere.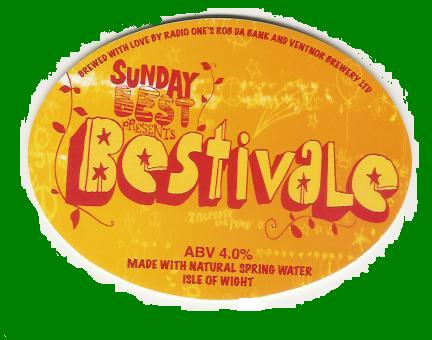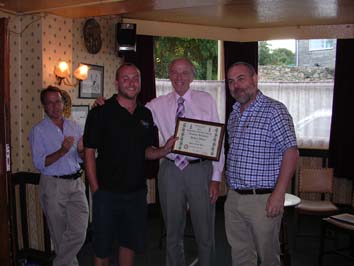 Well we have done it again !!
We have won the Isle of Wight CAMRA Beer of the year for the FORTH year running with Ventnor Gold. The photo above is of Xavier the Head Brewer at Ventnor brewery receiving the certificate last year at the Solent Inn in Ryde.
Everybody at Ventnor Brewery would like to say a Big Thank You to all those CAMRA members who voted for Ventnor Golden.
If a pub near you does not sell Ventnor Golden there are other ways to get hold of it.
Try buying it from our on line shop on this web site or call in to the brewery off - license to buy some. It is available in 4pint and gallon containers. So no excuse now for not trying the award winning Ventnor Golden.